e-fundresearch:
The credit and financial crisis sent stock prices of US companies into a downward slide in the last few weeks. How do you assess the current situation? Where do we stand?
Minn:
As you know, the environment in the third quarter has been extremely challenging and volatile. And although the stock market did not go down as much in September as it did in October, September was still a very challenging time period. We witnessed a huge increase in the TED spread, while the T-Bill yield went down quite a bit. All of this indicates a very tough credit environment. At the same time the US introduced a rescue package that initially failed at Congress, but was passed later on. This past quarter has been packed with an amazing amount of information and was full of news and volatility, but I am happy to report that during the third quarter we have done well and outperformed the benchmark.
e-fundresearch: How do you assess the election victory of Barack Obama and which impact do you expect for various sectors?
Minn: I am very excited about the change and I believe that the new government will do something about stimulating the economy. We might notice a certain weakness in the market for a short period, but with additional support by the government, which will focus more on the fiscal side on top of the monetary side now, we might actually get out of this weakness a lot faster.
e-fundresearch: US companies currently offer attractive valuations. How important is that for your investment strategy and how important are medium term growth prospects of companies in comparison to valuations?
Der Artikel wird nach der Anzeige fortgesetzt.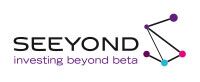 Going beyond conventional active management Seeyond is the volatility management and structured product investment division of Natixis Asset Management. To meet the challenges of growing correlation and volatility, Seeyond implements a set of strategies that go beyond conventional active management. » Learn more
Minn: At the centre is the concept of low expectations investing: we focus on companies with low downside and big upside that are undergoing positive change. The team seeks attractive names when they are value stocks, where short-term periods of pressure lead to attractive buy valuations of previously successful companies. The strategy also includes contrarian names. As companies recover, they will be trimmed again, and the focus is being redirected to companies that are presently in a low expectations situation.
e-fundresearch: Do you expect a recession in the US? If yes, how long could the weakness of the economy last? If no, which economic developments do you expect?
Minn: I hesitate to call the market bottoming or recommending asset allocation on a global basis. It is, however, a fact that the Federal Reserve started easing long before other central banks followed suit. The US economy has proven to be flexible and innovative in the past. In addition, the US market is a much deeper and broader market in terms of stock selection opportunity. So maybe there is a chance that "first in-first out" theory might work and that the US economy will be the first out of the current downturn. We are looking at the ERP (Equity Risk Premium), which is the expected return of equity market vs. the 10 year Treasuries in the US, and it is fair to say that current levels make US-Equities look attractive vs. bonds.
e-fundresearch: How will US stocks perform in the coming 12 - 18 months and how will you position your fund (sector weights)?
Minn: The past months have been very difficult for US equity investors and the next couple of months will also be challenging. Investors are lowering their expectations on companies and earning outlooks for 2009. We do believe there will be more challenges coming up in the financial markets. We are still concerned about CDS, commercial real estate areas, and credit card delinquencies coming up, so we are navigating these tough waters in a more cautious way. However, we have not changed our investment strategy. We are continuing our stock-picking approach and given the high volatility we actually think it is a good time to rebalance the portfolio in a very tactical way, by adding more to the positions that we think will do better during the next two to three years. Simultaneously, we are trimming some positions that we expect to not do as well. The most important thing to us is the earnings outlook, which is driven by how the company is managing its margins and by how it is making sales. What we are focusing upon, is the competitive nature of these companies, as well as the long-term survivability, as our average holding period is two to three years. This means that we might be experiencing certain performance challenges in the short term, but I do hope that we will show a strong performance in the long term.

As far as our positions in the financial sector go, we have been trying very hard to avoid financial companies with significant balance sheet risk. We successfully avoided such companies as AIG, Fannie Mae and Freddie Mac, Lehman Brothers, Washington Mutual and Wachovia. We have also exited positioning of US Bancorp and Wells Fargo, which are high quality financial companies, but because people s expectations of those companies are very high we decided to reap some profits. Currently we still hold companies, that we believe could be long-term beneficiaries from the current turmoil and government activities such as Metropolitan Insurance Company, Goldman Sachs, and JP Morgan. All of these are companies that have a solid balance sheet, as well as a strong track record of managing their financial and operational risk.

As far as fiscal policy is concerned, we are not exactly sure what kind of stimulus package will be passed by the government. People expect tax credits, additional stimuli focusing on the financial sector, and increased infrastructure spending. If infrastructure spending would indeed be increased, our portfolio would already be positioned very well, as we feature companies like Caterpillar and others that could benefit from such a potential fiscal stimulus package. But in general, it must be said, that even if we knew more about upcoming fiscal stimuli that would not necessarily prompt us to focus on those potential benefit areas, because our investment strategy still focuses on bottom-up stock-picking.
---
Weitere Artikel zu US Aktien.