e-fundresearch
: Mr David Houston you are the Head of the Berenberg
European small and mid cap
Team and Co manager of
Berenberg European small and mid cap
fund. Since when are your responsible for the fund management?


Houston
: Inception Dec 2004.
e-fundresearch
: Which benchmark do you adhere to?
Houston
: DJ Euro Stoxx TM Small.
e-fundresearch:
Are you also responsible for other funds at the moment?
Houston: Vontobel European small and mid cap Fund – same remit.
e-fundresearch: What is the total volume that you manage in all your funds?
Houston: E 170m in Euro smallcaps.
Der Artikel wird nach der Anzeige fortgesetzt.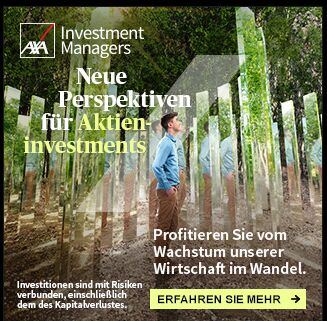 Die Evolving Economy ist die Wirtschaft der Zukunft. AXA Investment Managers will in allen Regionen und Sektoren Unternehmen identifizieren, die vom langfristigen demografischen und technologischen Wandel profitieren. Willkommen in der neuen Welt der Aktienanlagen. » Erfahren Sie mehr
e-fundresearch: Regarding the performance: which performance did you achieve since the beginning of the year and in the years 2003-2008? Absolutely and relatively to the relevant benchmark?

e-fundresearch: How content are you with your own performance in the last years and this year?
Houston: With the exception of the second half, and particularly last quarter of 2008, I have been very pleased with the progressive momentum in the performance of the fund. The Berenberg fund ranked 9/96 out of the peer group (Source Feri) over 3 years to June 2008. In addition the fund managers Jimmy Burns, Andrew Dykes and myself have been recognised by a range of rating agencies, including Citywire across seven European markets .
In terms of individual year performance 2005 was moderate in relative terms, but good in absolute terms + 28.3%. However the fund suffered in relative terms from strong inflows early in year into rapidly rising market.
2006 saw good absolute +39.7% and relative progress and set us up for a strong relative performance in 2007.
The first half of 2008 was again strong in relative terms -10.9% compared with -15.6% for the benchmark index. However the second half of the year saw this reverse as the fund suffered during the extraordinary economic and stockmarket events. There were three key elements to this – higher exposure to smaller companies that saw more pressure from low liquidity issues resulting in distressed selling, the funds exposure to oil service stocks that were hit by sentiment driven by the falling oil price, and the weakness in the Norwegian Kroner against the Euro (close to 20% ) - many of the oil service stocks are in Norway.
The relative performance in 2009 is starting to recover already.
e-fundresearch: How are you able to deliver added value for your investors with your performance?
Houston: Disciplined bottom up stock picking process carried out by an experienced team.
e-fundresearch: How long have you been a fund manager already?
Houston: Over 20 years
e-fundresearch: What were your biggest successes and your biggest disappointments in your career as fund manager?
Houston: Successes - My role in building up the Kempen smallcap fund management operation in Edinburgh from zero to over $800m before leaving to set up Euronova (hedge fund boutique in Edinburgh).
Developing and refining a distinctive and effective stock picking and valuation approach and implementing it in setting up the Berenberg team.
Disappointments – 3 years hard work at Euronova for little reward. Giving back the strong outperformance for Berenberg in the second half of 2008.
e-fundresearch: What kind of capital market situation do we have at the moment? How do you act in this environment?
Houston: A very uncertain and nervous market. Participants are waiting for greater conviction/confidence about how bad things could get. When they have that they will be able price assets more effectively.
We can maintain our fundamental disciplines and valuation methodology. While fundamentals appear to have been suspended in some areas they will reassert themselves in due course.
e-fundresearch: What are the special challenges in this environment?
Houston: The impact of sentiment and technical issues eg liquidity etc in the market driven by a lack of a clear view on the range of expectations for the world economy.
e-fundresearch: What objectives do you have till the end of the year and in the mid term for the upcoming 3 to 5 years?
Houston: That equity markets might end 2009 close to where they started. This will depend on how the world economy develops in response to the wide range of financial initiatives taken by governments around the world and in particular in the banking sector. If the global economy troughs in the next 12-18 months then there is the potential for very good returns from equities in the next 3-5 years, in particular from smaller companies, in anticipation and in reaction to the recovery.
e-fundresearch: Do you model yourself on someone? Any ideals?
Houston: No model – though Warren Buffett makes lots of sense.
Ideals - perspiration rather than inspiration is more likely to deliver results.
The serious application of common sense and disciplined implementation are key.
Long term returns cannot be made quickly.
Equities are the best vehicle for long term growth.
e-fundresearch: What motivates you in your job?
Houston: Satisfaction of a job well done.
The opportunity to find out about a wide range of businesses and meet a huge diversity of people.
Financial rewards are good if uncertain from time to time!
e-fundresearch: What else do you want to achieve or do you have any further aims as a fund manager?
Houston: To build a successful and sustainable equity based asset management business in Edinburgh that is recognised within Berenberg and beyond as being a true centre of competence/excellence.
To be financially secure so that I can retire!
e-fundresearch: What other profession would you have taken interest in, apart from becoming a fund manager?
Houston: I started as a lawyer – not going back to that. I also worked as a shipbroker on the Baltic Exchange prior to getting involved in investment management so I have done a few.
With a broad knowledge of different businesses and industries I have an insight into what businesses are likely to be successful and what characteristics are important in management in different businesses.
I would like to be able to use this to help smaller companies to develop.
e-fundresearch: Thank you for the interview!
---