e-fundresearch
: Mr Carsten Dehn. You are the fund manager of
SEB Europafond Småbolag - Lux utd.fund.
Since when are your responsible for the fund management?
Dehn
: 1st January 2006.
e-fundresearch: Which benchmark do you adhere to?
Dehn: MSCI Small Cap, net dividend.
Der Artikel wird nach der Anzeige fortgesetzt.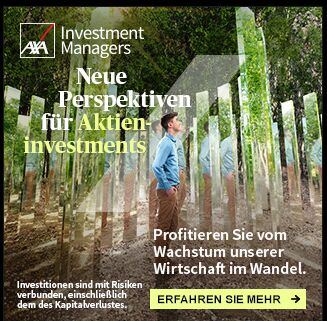 Die Evolving Economy ist die Wirtschaft der Zukunft. AXA Investment Managers will in allen Regionen und Sektoren Unternehmen identifizieren, die vom langfristigen demografischen und technologischen Wandel profitieren. Willkommen in der neuen Welt der Aktienanlagen. » Erfahren Sie mehr
e-fundresearch: Are you also responsible for other funds at the moment?
Dehn: Yes, Euopean High dividend Fund based on quant.
e-fundresearch: What is the total volume that you manage in all your funds?
Dehn: EUR 300m.
e-fundresearch: Regarding the performance: which performance did you achieve since the beginning of the year and in the years 2003-2008? Absolutely and relatively to the relevant benchmark?
Dehn:
Fund MSCI Small Cap net div
2006 32,4% 30,03%
2007 3,6% -8,07%
2008 -46,6% -52,35%
2009 -4,8% -8,69%

e-fundresearch: How content are you with your own performance in the last years and this year?
Dehn: We are very pleased with the relative performance due to the outperformance and due to the fact that we have been able to outperform in positive and negative markets.
e-fundresearch: How are you able to deliver added value for your investors with your performance?
Dehn: In our view, Europe small cap is a semi-efficient asset class offering excellent alpha potential. We prefer a "boutique" set-up rather than a factory approach. In addition, a stock-picking approach is essential rather than a conventional down / sector approach. We furthermore find that our own field research is superior to the research material offered by brokers and that the best performance is generated by way of a long-term investment horizon rather than through short-term momentum. Finally, we find that the qualitative risk constitutes a better risk target than a more quantitative approach.
e-fundresearch: How long have you been a fund manager already?
Dehn: Since 2004.
e-fundresearch: What were your biggest successes and your biggest disappointments in your career as fund manager?
Dehn: The biggest disappointment as a stock picker is when the assumptions you base your investment on are wrong and the edge you assumed you had is not holding water. Unfortunately management is not always giving correct information and therefore it is essential that we always are very sceptical when we talk to management and thereby avoiding losers. I always try to take advantage of mistakes by learning from it. The biggest success is when every thing you predicted is also coming through.
e-fundresearch: What kind of capital market situation do we have at the moment? How do you act in this environment?
Dehn: We see the worst market conditions since the depression in the 1930'ies and it is very difficult to predict when there is light at the end of the tunnel. However I believe that the panic in the market creates several opportunities in the market due to the fact that miss pricing is extreme in extreme market situation. We are long term investors – so we can take advantage of this.
e-fundresearch: What are the special challenges in this environment?
Dehn: We have to be patient in our investment behaviour and believe in our investment process. Panic is not the answer. We must also have focus on earnings visibility and debt structure. Several companies will not be able to service the debt according bank restrictions. This is a main focus from our side. Market leader status and pricing power are also very high on our agenda when we invest in new companies.
e-fundresearch: What objectives do you have till the end of the year and in the mid term for the upcoming 3 to 5 years?
Dehn: My objective short term is generate a relative excess return compared to the overall market. This is also my aim longer term.
e-fundresearch: Do you model yourself on someone? Any ideals?
Dehn: No, I have no ideals in the investment community. However, I have respect for investment managers are working very disciplined in their investment approach.
e-fundresearch: What motivates you in your job?
Dehn: I always had a winner mentality and being a portfolio manager you can challenge and improve your know how within a job where you also see it as your hobby. I also believe that I can always become better in my field meaning that I am never board or find my job tediousness.
e-fundresearch: What else do you want to achieve or do you have any further aims as a fund manager?
Dehn: No, I can not see myself being anything else than a fund manager.
e-fundresearch: What other profession would you have taken interest in, apart from becoming a fund manager?
Dehn: I have not given that any thoughts.
e-fundresearch: Thank you for the interview!
---