e-fundresearch
: Mr Egon Vavrek, you are the fund manager of the
LGT Equity Emerging Europe and MENA fund
(ISIN: LI0046413329). Since when are your responsible for the fund management?
Vavrek
: I am responsible for the LGT Equity Emerging Europe and MENA fund since launch, which is since the 12th of November 2008.
e-fundresearch: Which benchmark do you adhere to?
Vavrek: MSCI Emerging Europe (EUR) 10/40 capped.
e-fundresearch: Are you also responsible for other funds at the moment?
Der Artikel wird nach der Anzeige fortgesetzt.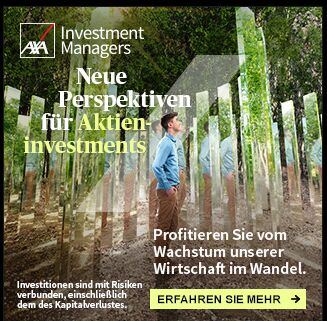 Die Evolving Economy ist die Wirtschaft der Zukunft. AXA Investment Managers will in allen Regionen und Sektoren Unternehmen identifizieren, die vom langfristigen demografischen und technologischen Wandel profitieren. Willkommen in der neuen Welt der Aktienanlagen. » Erfahren Sie mehr
Vavrek: I am also responsible for the sectors Energy and Materials within the LGT Equity Fund Europe (EUR).
e-fundresearch: What is the total volume that you manage in all your funds?
Vavrek: The total volume I am responsible for is approx. 85 million USD.
e-fundresearch: Regarding the performance: which performance did you achieve since the beginning of the year and in the years 2003-2008? Absolutely and relatively to the relevant benchmark?
Vavrek:
• 2006 Sept – 2008 June: relative +15% outperformance; absolute +50.6%
• LGT Equity Emerging Europe and MENA, 2008 Nov – 2009 Oct: relative +11.6% outperformance, absolute 65%
• LGT Equity Emerging Europe and MENA, 2009 YTD: relative: 8.6%, absolute: 75.7%
e-fundresearch: How content are you with your own performance in the last years and this year?
Vavrek: In the last couple of years my performance at least met my expectations or exceeded it.
e-fundresearch: How are you able to deliver added value for your investors with your performance?
Vavrek: My core focus is
- strong stock picking,
- detailed financial modelling and
- evaluation of corporate business models
- investing in stocks with a high dividend yield.
My approach and performance strongly prove that information asymmetry still exists in emerging markets. Hence bottom-up stock picking (ala Graham, Fischer and Buffett) is one of the most successful ways to manage a portfolio.
e-fundresearch: How long have you been a fund manager already?
Vavrek: 5 years.
e-fundresearch: What were your biggest successes and your biggest disappointments in your career as fund manager?
Vavrek: I am really proud of my risk adjusted outperformance in the last couple of years, which put me in the top 15% of my peer group. During the last year the capital markets were not making any differentiations among companies, hence good quality companies´ performance suffered the same extent as bad. Unfortunately I had to suffer through this period which was visible in my performance.
e-fundresearch: What kind of capital market situation do we have at the moment? How do you act in this environment?
Vavrek: I believe that we are living historical times, not only that we went through one of the deepest recessions of living memories, but also our governments and regulators are facing the biggest test in order to create a regulatory framework which foster healthy capital markets, while making the system more secured and solid.
Governments and central banks (especially in the developed world) have to decide either to carry on with 'credit fuelled growth' policy or to accept a possible short term pain in order to make the global growth more steady.
e-fundresearch: What are the special challenges in this environment?
Vavrek: My biggest challenge is to find a new, more efficient and sophisticated risk modelling system, as "Efficient Market Hypothesis" driven risk models proved to provide a false sense of comfort for many investors.
e-fundresearch: What objectives do you have till the end of the year and in the mid term for the upcoming 3 to 5 years?
Vavrek: I aim for the confirmation of my previous track record and a further consistent outperformance. My greatest effort is to keep the outstanding risk – return profile of the fund. The final goal of course is to make "LGT Emerging Europe and MENA fund" one of the most successful fund in Europe, with a consistent positioning on the top of the first quartile of the peers. On the client side we long for the continuing growth of the fund volume.
e-fundresearch: Do you model yourself on someone? Any ideals?
Vavrek: I don't have any role models, but I greatly admire the works of Benjamin Graham and Philip A. Fisher (ideological stepfathers of Warren Buffet); David Swensen and George Soros; and one of my recent favourite 'mind opener' are Nassim N. Taleb and Mohamed El-Erian.
e-fundresearch: What motivates you in your job?
Vavrek: I greatly enjoy the constantly changing environment of the capital markets, which keeps me intellectually challenged.
e-fundresearch: What else do you want to achieve or do you have any further aims as a fund manager?
Vavrek: I think the asset management profession is a long term commitment, hence few years of good performance is usually not enough to stay at the top of the peer group. I am aiming to keep up with the hard work and I am confident that it will bear its fruit.
e-fundresearch: What other profession would you have taken interest in, apart from becoming a fund manager?
Vavrek: I was greatly interested in architecture, but I was 'distracted' by economics and finance in my early youth.
e-fundresearch: Thank you for the interview!
---