e-fundresearch
: Mrs Ho, you are the fund manager of the Carlson Fund - Asian Small Cap. Since when are your responsible for the fund management?
Ho
: Jan 1999
e-fundresearch: Which benchmark do you adhere to?
Ho: MSCI Asia Pacific Ex-Japan
Der Artikel wird nach der Anzeige fortgesetzt.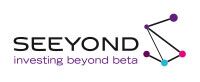 Going beyond conventional active management Seeyond is the volatility management and structured product investment division of Natixis Asset Management. To meet the challenges of growing correlation and volatility, Seeyond implements a set of strategies that go beyond conventional active management. » Learn more
e-fundresearch: Are you also responsible for other funds at the moment?
Ho: Yes, Nestor Far East and Carlson China Micro Cap
e-fundresearch: What is the total volume that you manage in all your funds?
Ho: App. EUR 670mn
e-fundresearch: Regarding the performance: which performance did you achieve since the beginning of the year and in the years 2003-2008? Absolutely and relatively to the relevant benchmark?
Ho:

e-fundresearch: How content are you with your own performance in the last years and this year?
Ho: I am not so contented in both 2009 and year to date 2010 performance.
e-fundresearch: How are you able to deliver added value for your investors with your performance?
Ho: By focusing on under-researched small caps, and actively meeting companies and cross referencing, I can exploit the market inefficiency faster and add performance to the portfolios.
e-fundresearch: How long have you been a fund manager already?
Ho: Since Jan 1999, eleven years by now.
e-fundresearch: What were your biggest successes and your biggest disappointments in your career as fund manager?
Ho: Biggest success is to run the same fund from it was USD 10mn in size in 1999 to USD 1.2bn in 2007, and now USD 700mn. Also to stick to the same investment style, what we call the "thematic approach" for all these 11 years, and has a very loyal and understanding group of investors in the fund.
Biggest disappointment was in 2008 when the fund underperformed its benchmark.
e-fundresearch: What kind of capital market situation do we have at the moment? How do you act in this environment?
Ho: The capital market is full of uncertainties regarding to the debt and monetary situations of the developed markets of US and Europe. Like always, there is the policies risk in China, this time it is related to how the government is to normalise its monetary and fiscal policies after the 2008 crisis. We will aim to take advantage of the market volatilities caused by the uncertainties and to optimize the portfolio with companies of high visibilities and strong earnings growth.
e-fundresearch: What are the special challenges in this environment?
Ho: We will need to adapt to volatilities and not scared of it. We will need to have strong conviction on the fact that the underlying economies in our major markets, China and India, are buoyant. We need to stick to the themes and pick companies accordingly.
e-fundresearch: What objectives do you have till the end of the year and in the mid term for the upcoming 3 to 5 years?
Ho: At every point of time we want to outperform the market and to maximize return to investors.
e-fundresearch: Do you model yourself on someone? Any ideals?
Ho: I would like to model myself to Peter Lynch of Fidelity, as an active stock picker. I want to be as open minded as ever, even as I am getting older and older.
e-fundresearch: What motivates you in your job?
Ho: Curiosity. I always want to learn about successful businesses, and I am interested in the management behind them.
e-fundresearch: What else do you want to achieve or do you have any further aims as a fund manager?
Ho: I want to handle my greed and fear better and better as I grow older and older, but remain open minded and curious.

e-fundresearch: What other profession would you have taken interest in, apart from becoming a fund manager?
Ho: Some kind of an artist, I think there are similarities between fund managers and artists, but I am not able to put them in words.
e-fundresearch: Thank you for the interview!
---