Performance Review 2006
Performance Review 2007
Performance Review 2008
Lazlo Belgrado: "The complete collapse of financial markets after the Lehman debacle made 2008 a difficult year for the fund. However, this represented more the illiquidity and flight to 'home markets' pattern witnessed, than wrong investment decisions. Even rock solid AAA currencies like NOK were slaughtered, as investors repatriated assets to the most liquid markets. Markets disregarded fundamentals completely. Note that the fund suffered zero credit losses, illustrating the very high grade credit character, and that liquidity for investors was guaranteed at all time. Moreover, compared to other risky asset markets, the fund offered a strong performance."
Performance Review 2009
Der Artikel wird nach der Anzeige fortgesetzt.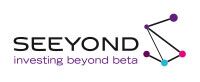 Going beyond conventional active management Seeyond is the volatility management and structured product investment division of Natixis Asset Management. To meet the challenges of growing correlation and volatility, Seeyond implements a set of strategies that go beyond conventional active management. » Learn more
Lazlo Belgrado: "2009 was a great year for the fund. The process proved to work, as the risk budget was increased in a timely manner, based on the time-tested toolbox. The strong rebound of the fund illustrated that the end of 2008 drop was due to market illiquidity and not to be blamed to wrong, low quality investments."
Performance Review 2010
Lazlo Belgrado: "2010 was another strong year for the fund. Notwithstanding a strong JPY and USD (both low yielding and as such not a part of the investment universe), the fund performed in line with the broad market. Well timed investments in solid emerging market bonds proved to be a strong tailwind."
Performance 2011 - Year-to-Date
Lazlo Belgrado: "2011 is a difficult year for the carry trade. The enduring budget crisis in both Europe and the US, have made investors risk averse. Safer (out of universe) haven currencies (JPY, CHF) are the preferred destinations and long duration AAA credits shine. EM markets, on the other hand, suffer from selling pressures. Nevertheless, the decline in the fund's NAV has been very limited. The process once more proved to perform, resulting in a sharp decline of the ex-ante VaR since May and a realized volatility below market average levels!"
Investment Process and Strategy – How does the Fund Manager invest?
Lazlo Belgrado: "KBC Bonds High Interest adopts an alternative philosophy compared to classical benchmarked government bond investments. The aim is to construct a portfolio with a very high credit quality and a risk profile (volatility and value at risk) similar to the broad IG government market (4-6 % annualized volatility), but with superior medium term risk/return characteristics. To reach this goal, the management team constructs an internationally diversified portfolio of high grade (mostly sovereign or supranational) foreign currency bonds, providing a higher yield than core EMU government bonds. Both developed and emerging market investments are considered. By exploiting themes such as the well documented forward rate bias and economic convergence and implementing a rigorously followed and consistently repeated investment process, we are convinced to have a medium- and long-term winning strategy. Multi-year performance figures over the past 15 years (the period over which core elements of the current management team have been involved) illustrate the latter. The process consists of a combination of top-down and bottom up elements and involves quantitative as well as qualitative inputs. Overall, there is a strong reliance on thorough analytical input."
Investment Outlook
Lazlo Belgrado: "The global economy is currently subject to a high level of uncertainty. From a fundamental point of view, a corporate lead recovery (particularly in the US) and strong domestic demand lead growth in emerging markets remain a distinct possibility. However, this outlook is being challenged by severe policy execution risks, both in Europe (debt crisis) and the US (the budget debate). As such, high volatility and downside risks to both the global supportive short-term climate for carry based products. Consequently, we currently adopt a defensive portfolio allocation. This implies to a certain extent a preference for developed market debt, a focus on sound balance of payments and public budget fundamentals, limiting the European exposure and holding longer duration instruments.
In the medium term, the outlook for the theme remains very promising. Whereas the safest assets trade at expensive valuations, risk premiums on other high quality investments are attractive. Many higher yielding foreign currency investments are characterized by both attractive valuations (monetary policy tightening priced, undervalued currencies, …) and strong fundamentals (high economic growth, good demographics, healthy public finances, strong balance of payments, …). Once the current political uncertainty subsides, KBC Bonds High Interest should resume outperforming more classic government bond investments."