Investment Universe, Process, Strategy and Benchmark – How does the Fund Manager invest? (ISIN: LU0239027880)
The Portfolio seeks long-term capital growth by investing in a range of Japanese companies. The Investment Manager's fundamental value approach seeks to identify securities that are attractively priced relative to their future earnings power. Stock selection is driven by fundamental research, helped by proprietary quantitative tools to aid risk control and portfolio construction. The Japan Strategic Value strategy is designed to maximize premium with reduced sensitivity to benchmark risk.
The benchmark is the Japanese TOPIX Index.
The fund management team consists of:
Katsuaki Ogata Chief Investment Officer — Japan Value Equities
Takeo Aso Director — Japan Value Equities Research
Masahide Ooka Senior Portfolio Manager — Japan Value Equities
Performance Review 2006
Der Artikel wird nach der Anzeige fortgesetzt.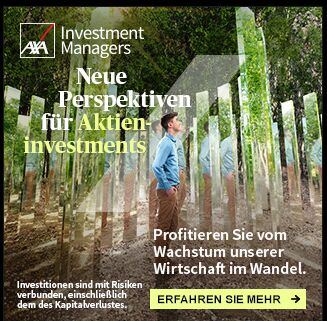 Die Evolving Economy ist die Wirtschaft der Zukunft. AXA Investment Managers will in allen Regionen und Sektoren Unternehmen identifizieren, die vom langfristigen demografischen und technologischen Wandel profitieren. Willkommen in der neuen Welt der Aktienanlagen. » Erfahren Sie mehr
Katsuaki Ogata: "The fund outperformed the benchmark in 2006, effectively its first year, as its holdings benefited from robust global economic growth. The positive relative performance was driven by strong stock selection in capital equipment companies, such as automakers, and industrial commodities names, such as steelmakers. The biggest detractors were consumer finance companies, which were hit by the government's decision to drastically lower the maximum interest rates on their consumer lending."
Performance Review 2007
Katsuaki Ogata: "Although Japanese equities fell in 2007 as the subprime-mortgage crisis pressured global capital markets, the fund outperformed the benchmark. Commodity-related holdings, such as trading houses and chemical companies, buoyed performance as resilient emerging-market demand supported those companies. Leading detractors were financials, although a lack of exposure to some of the worst-hit banks mitigated the impact."
Performance Review 2008
Katsuaki Ogata: "The subprime-loan crisis snowballed into a broader global credit crisis in 2008, triggering a spike in investors' risk-aversion. The fund underperformed the benchmark as its deep-value holdings, such as chipmaker Elpida Memory, automaker Nissan and financial-services firm ORIX came under heavy pressure from investors' flight to quality. Nonetheless, the fund's bottom-up company research suggested that the sell-off was likely excessive and created value opportunities."
Performance Review 2009
Katsuaki Ogata: "Coordinated monetary and fiscal stimulus measures by global economic policymakers during the crisis set the stage for a sharp equity-market rebound in 2009. The fund sharply outperformed this rebounding market as anxiety in the market subsided and investors flocked back to stocks that had underperformed in the bear market, such as Elpida Memory, Nissan and ORIX. The about-face in investor behaviour also led to the bursting of a bubble in the premium on defensive stocks, such as utilities and telecommunications names—creating value opportunities in such companies."
Performance Review 2010
Katsuaki Ogata: "Although the market's secular recovery remained largely intact in 2010, supported by resilient emerging-market economies, the European sovereign debt crisis and concerns about a double-dip recession in the developed economies triggered several bouts of risk aversion among investors. The fund outperformed, nonetheless, as the defensive stocks it had bought during the 2009 market rally provided a cushion, while its deep-value holdings continued to benefit from an underlying market recovery."
Performance Review 2011
Nick Davidson, Senior Portfolio Manager AllianceBernstein: "In 2011 the TOPIX was down 17.0% wrapping up a rough year for Japanese companies, many of which suffered from the March 2011 earthquake, supply-chain disruptions caused by massive floods in Thailand, and the global financial market turmoil.
Investors' unease was compounded by a higher yen, which remained close to the postwar highs against the US dollar that had been reached earlier in the year, casting a shadow over Japanese exporters' earnings.
Against this background, cyclical sectors generally led the decline for both the final quarter and the full year, although the usually defensive utilities sector was the biggest underperformer in both periods due to concerns about the ramifications of the nuclear accident for electric power companies. On the other hand, defensive sectors, such as consumer staples, fared comparatively well for most of the year.
Despite a hostile market environment, our portfolios outperformed the benchmark in the fourth quarter and ended largely in line with the market for the calendar year. Our stock selection in the financials and technology sectors contributed to relative returns in the fourth quarter, while our consumer staples and telecommunications holdings supported our full-year returns."
Performance 2012 - Year-to-Date
Nick Davidson: "Japanese equities rose in January, tracking a global market rally as investor anxiety over the European debt crisis and a global economic slowdown receded. Still, the Japanese market lagged its global counterparts due in part to worries that the yen's persistent strength would undermine exporters.
The Portfolio underperformed its benchmark during January. Our stock selection in capital equipment and technology, as well as our overweight in telecommunications, detracted from relative performance. Our strong stock selection in financials and consumer staples partially offset the losses." (as of end January 2012)
Performance since 2007
Nick Davidson: "Our portfolios outperformed the benchmark during 2007. Strong security selection in financials, technology and transportation stocks contributed to performance. Sector selection was positive as a result of our overweight position in energy, however, our underweight position in consumer cyclicals detracted from performance.
In 2008 the portfolios underperformed the market as the global financial turmoil triggered a sharp economic downturn, fuelling acute risk aversion among investors. In 2009 the portfolios outperformed the broad market, with deep-value holdings that had been hard hit in 2008—such as diversified financial services company ORIX, automaker Nissan and chipmaker Elpida Memory—being major contributors. In 2010 the portfolios outperformed due primarily to positive stock selection in the finance, industrial commodities, and consumer cyclicals sectors. Chemicals holdings such as Mitsubishi Gas Chemical, Zeon Corp and DIC were particularly strong performers.
The portfolio finished 2011 largely in line with the lower benchmark with consumer staples and telecommunications holdings supported our full-year returns."