e-fundresearch
: "Mr. Peter De Coensel, you are the fund manager of
Petercam L Bonds EUR Quality B
(ISIN:
LU0130967168
) fund. Since when are your responsible for the fund management?"
De Coensel
: "Since January 2009."
e-fundresearch: "Which benchmark do you adhere to?"
De Coensel: "Petercam L Bonds EUR Quality is a benchmarked strategy characterised by active management versus its benchmark, the Iboxx EMU Corporates All Maturities, which is both used for portfolio management and performance and risk comparison. This index is a purely corporate benchmark, investment grade and a reference in the industry. It has the advantage of being fully transparent in terms of access, composition, calculation options, etc. The benchmark reinvests the coupons of the bonds. The portfolio manager is not constrained by the sector and issuer allocation of a benchmark, taking into account the soft guidelines of the fund. This enables them to opt for a more balanced spread, contrary to the indices of European corporate bonds, which are dominated by the financial sector."
Der Artikel wird nach der Anzeige fortgesetzt.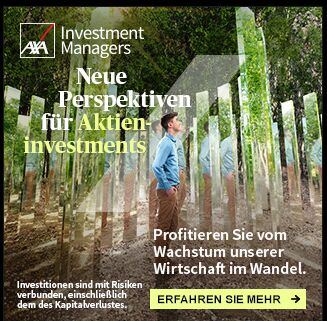 Die Evolving Economy ist die Wirtschaft der Zukunft. AXA Investment Managers will in allen Regionen und Sektoren Unternehmen identifizieren, die vom langfristigen demografischen und technologischen Wandel profitieren. Willkommen in der neuen Welt der Aktienanlagen. » Erfahren Sie mehr
e-fundresearch: "Are you also responsible for other funds at the moment?"
De Coensel: "Yes: of Petercam L Bonds Universalis (and similar mandates) as well as Petercam Horizon B Bonds Quality Short Term and Petercam L Bonds EUR Investment Grade Aggregate."
e-fundresearch: "What is the total volume that you manage in all your funds?"
De Coensel: "Close to €1.4 billion (as at end of March 2012)."
e-fundresearch: "Regarding the performance: which performance did you achieve since the beginning of the year and in the years 2007-2011? Absolutely and relatively to the relevant benchmark?"
De Coensel: "2007: flat performance versus the index
2008: -22.38% for the fund, the benchmark -4%
2009: fund: 12,32% for the fund, the benchmark 16%
2010: 6,22% for the fund, index 4.5%
2011: flat performance versus the index
2012 YTD: gross outperformance of 1.25% versus the index"
e-fundresearch: "How content are you with your own performance in the last years and this year?"
De Coensel: "We can't complain. Since taking over the portfolio in 2009, the portfolio has got a more balanced positioning between financials/non-financials. Thanks to rigorous analysis of issuers, strict risk management and cross-fertilisation with the credit research team, the fund is now well positioned."
e-fundresearch: "How are you able to deliver added value for your investors with your performance?"
De Coensel: "The investment process relies on a consistent approach in duration and yield curve management, active management, disciplined investment process combining macro top down and bottom up credit analysis and issuer selection to optimise investment opportunities. We also have talented people who are street smart. We objectivise through use of maths, understand our economics, establish a very close link with the macro research team and credit analysts and take disciplined sector/issuer bets."
e-fundresearch: "How long have you been a fund manager already?"
De Coensel: "For over 20 years. I started my career in finance in November 1991."
e-fundresearch: "What were your biggest successes and your biggest disappointments in your career as fund manager?"
De Coensel: "Success is not measured in terms of basis points, but in terms of survivorship and in proactivity to changing regimes on financial markets."
e-fundresearch: "What kind of capital market situation do we have at the moment? How do you act in this environment?"
De Coensel: "We are entering in the maturing phase of the credit cycle. To our assessment we can state that in general credit cycles have become shorter and more volatile when compared to periods before 2008. Central bank liquidity provisioning and increased regulation for market risk for sell side intermediaries (dealing books/inventory) start to have a structural impact on the credit markets as an asset class. In this environment, we have taken on a more defensive stance. Given the market evolution and circumstances, we decided Mid March that the balance of risk became asymmetrical and decided to take profit within the Quality fund. We have taken profits in higher-beta credit (financial as well as non-financial)."
e-fundresearch: "What are the special challenges in this environment?"
De Coensel: "There are always many challenges. Some of them include French elections, rating agency activity and macro-economic data that might confirm or annul our scenario. China holds the wildcard and geopolitics remain the big unknown."
e-fundresearch: "What objectives do you have till the end of the year and in the mid term for the upcoming 3 to 5 years?"
De Coensel: "End of year: protect our outperformance. 3-5 years: substantially increase the AUM in the strategy."
e-fundresearch: "Do you model yourself on someone? Any ideals?"
De Coensel: "No."
e-fundresearch: "What motivates you in your job?"
De Coensel: "Adding value for our clients, both private and institutional."
e-fundresearch: "What else do you want to achieve or do you have any further aims as a fund manager?"
De Coensel: "Increase my understanding of financial markets in order to become more proactive in detecting changing market regimes."
e-fundresearch: "What other profession would you have taken interest in, apart from becoming a fund manager?"
De Coensel: "An architect."
e-fundresearch: "Thank you for the interview!"