e-fundresearch
: Mrs Rose Ouahba, you are the co-fund manager of
Carmignac Patrimoine
(ISIN:
FR0010135103
) fund. Since when are your responsible for the fund management?
Ouahba
: I have been managing the bond part of Carmignac Patrimoine since April 2007. Edouard Carmignac is in charge of the equity pocket of the portfolio since the creation of the company and the Fund in 1989.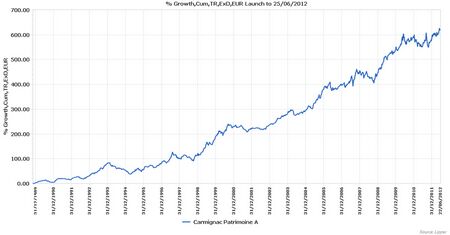 e-fundresearch: Which benchmark do you adhere to?
Ouahba: In line with the general investment philosophy of Carmignac Gestion, Carmignac Patrimoine differentiates itself through its unique management style. Invested in global equity and fixed income markets, the fund is managed on a discretionary and non-benchmarked basis. It seeks to maximize performance over the recommended investment horizon while focusing on capital protection.
e-fundresearch: Are you also responsible for other funds at the moment?
Der Artikel wird nach der Anzeige fortgesetzt.
29.04.2021 10:00
30 Min.
Ivan Domjanic, CFA, Simon Weiler
Ouahba: As head of the bond team I am also managing Carmignac Court-Terme, one of our two monetary funds. The fund is mostly invested on investment grade Euro zone securities.
e-fundresearch: What is the total volume that you manage in all your funds?
Ouahba: As of March 31st 2012 I manage 26,228.90 million euro. This figure can be decomposed as follow: 25,648.53 million for Carmignac Patrimoine and 580.37 million for Carmignac Court-Terme.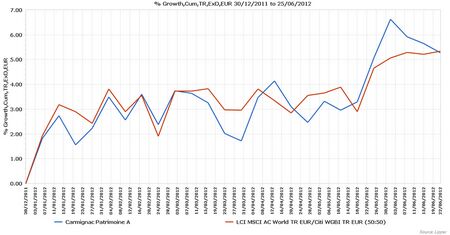 e-fundresearch: Regarding the performance: which performance did you achieve since the beginning of the year and in the years 2007-2011? Absolutely and relatively to the relevant benchmark?
Ouahba: The fund has a year-to-date, as of March 31st 2012, positive performance of +1.72% while its performance index is up +2.73%. From 2007 to 2011 the fund has strongly outperformed its performance index with a +36.22% increase against +16.47%.
e-fundresearch: How content are you with your own performance in the last years and this year?
Ouahba: Over 2011, the fund had a negative performance of -0.76% against +1.76% for its index of reference. This disappointment was mainly attributable to the excess caution we have demonstrated over the last three months by maintaining a reduced share exposure (12%) to deal with the uncertainties raised by the unresolved European crisis.
Our reading of the global macro-economy over the past year has not proved incorrect, albeit its application to our management has produced results below our expectations. In Europe, it has become evident to us that the need to reduce the leverage effect seriously complicates the task of those who decide economic policy. The inability to provide a radical solution to the Greek crisis from the start reinforces our pessimistic vision of the future of the euro-zone. At the start of 2001, we had anticipated a more robust economy in the United States than in Europe as a result of a budgetary and monetary policy intentionally favouring growth. Then crash! The joint appearance of the two black swans, the Arab revolts and the Fukushima tsunami, had a significant effect, especially as the resulting slowdown was not followed by the fall in oil prices that should have accompanied it. The emerging world seemed to be following its own cycle, separate from western deflationist pressures, on the contrary having to fight against inflationist pressures resulting from its own dynamism. Three months later than our predictions, the Chinese inflationist trend set in, but the monetary policy response we await is taking a long time. The influence of this global economic reading on our investment strategy has been uneven.
e-fundresearch: How long have you been a fund manager already?
Ouahba: I have been working as a portfolio manager for 14 years, including 5 at Carmignac.
e-fundresearch: Thank you for the interview!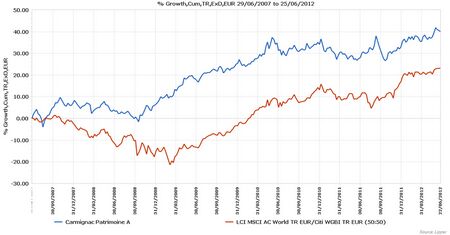 ---
Performanceergebnisse der Vergangenheit lassen keine Rückschlüsse auf die zukünftige Entwicklung eines Investmentfonds oder Wertpapiers zu. Wert und Rendite einer Anlage in Fonds oder Wertpapieren können steigen oder fallen. Anleger können gegebenenfalls nur weniger als das investierte Kapital ausgezahlt bekommen. Auch Währungsschwankungen können das Investment beeinflussen. Beachten Sie die Vorschriften für Werbung und Angebot von Anteilen im InvFG 2011 §128 ff. Die Informationen auf www.e-fundresearch.com repräsentieren keine Empfehlungen für den Kauf, Verkauf oder das Halten von Wertpapieren, Fonds oder sonstigen Vermögensgegenständen. Die Informationen des Internetauftritts der e-fundresearch.com AG wurden sorgfältig erstellt. Dennoch kann es zu unbeabsichtigt fehlerhaften Darstellungen kommen. Eine Haftung oder Garantie für die Aktualität, Richtigkeit und Vollständigkeit der zur Verfügung gestellten Informationen kann daher nicht übernommen werden. Gleiches gilt auch für alle anderen Websites, auf die mittels Hyperlink verwiesen wird. Die e-fundresearch.com AG lehnt jegliche Haftung für unmittelbare, konkrete oder sonstige Schäden ab, die im Zusammenhang mit den angebotenen oder sonstigen verfügbaren Informationen entstehen.