Credit risk (we focus on good credit, and never invest in securities with a rating lower than B)
Adequate liquidity (a minimum size of issue ($150m) which guarantees, in our view, a minimum level of liquidity in the instrument)
Style (we invest almost exclusively in balanced convertible bonds)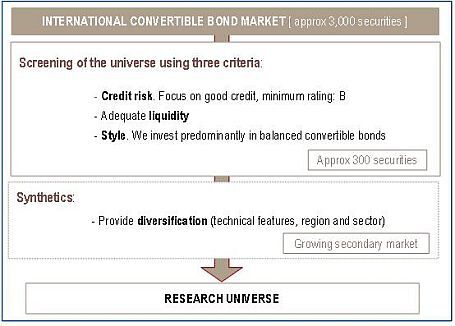 Figure 2: Screening of universe

Following the initial filtering (liquidity, credit and balanced nature of convertible), the fund managers proceed to a top-down analysis based on the Lombard Odier internal strategic views and most importantly, on the convertibles team's strongest convictions regarding regions and sectors.
In this respect, the fund managers apply their analysis of fundamentals:


Sector, region biases
In-depth work on stock-picking ideas
Technical choices (convertible bonds with best risk/reward profile)
This process allows for the construction of the major part of our portfolio (between 85 and 125 securities).
The team also filters the existing convertible bond's universe based on purely technical criteria, in search of the most attractive profiles:
Interesting spreads
High Gamma (high sensitivity to Delta)
Attractive pricing, etc.
This parallel process must of course never contradict the fund's investment philosophy. Its purpose is to identify interesting securities on the margin of the core portfolio.


Figure 3: Fundamental and technical review

The benchmark of the fund is the UBS Global Convertible Composite index, hedged in EUR. In the process of selecting the appropriate benchmark, the team focused on the following two factors: i) stability regarding the number of convertible bonds and the frequency of changes and ii) the objectives of the underlying investment strategy.

The UBS Global convertible composite index, hedged in EUR is made up of:
- 2/3 UBS Global focus, hedged in EUR
- 1/3 UBS Global focus investment grade, hedged in EUR.
We feel it is important for the benchmark to reflect the bias of the fund towards good credit (B minimum, and a strong focus on investment grade securities – average rating between AA and BBB).

Team leader: Nathalia Barazal
Other Portfolio Managers: Giuliano Mazzoni, Jérome Hémard, Arnaud Gernath

Performance Review 2006
---
Nathalia Barazal and Giuliano Mazzoni have been working together since December 2004. Jérome Hémard joined the portfolio management team in January 2008 and Arnaud Gernath in December 2011. There are 4 Portfolio Managers in the team and 4 analysts dedicated to Convertible Bonds: Maxime Perrin (joined the team in November 2007 / Product Specialist and Equity Analyst Europe & US), Sandra Remtoulah (joined the team in June 2010 / Equity Analyst Europe & US), Larry Pun (joined the team in November 2010 / Equity Analyst Asia, based in Hong Kong), Lori Woodland (joined the team in December 2011 / Credit Analyst)