e-fundresearch.com:
Mr Nicolas Walewski, you are the fund manager of the
Alken Fund - European Opportunities-R
fund (ISIN:
LU0235308482
). Since when are your responsible for the fund management?
Walewski:
Since inception, which was January 3rd 2006.
e-fundresearch.com:
Which benchmark do you adhere to?
Walewski:
The Dow Jones Euro Stoxx 600 (SXXR).
e-fundresearch.com:
Are you also responsible for other funds at the moment?
Walewski:
Yes –the AEO fund is a sub-fund of the Alken Fund Sicav, the other sub-funds of which are the Alken Small Cap Europe Fund and the Alken Absolute Return Europe Fund. We also manage a number of segregated mandates and a SIF, the Alken Capital One Fund.
e-fundresearch.com:
What is the total volume that you manage in all your funds?
Walewski:
Alken currently manages 2.9bn EUR
e-fundresearch.com:
Regarding the performance: which performance did you achieve since the beginning of the year and in the years 2007-2011? Absolutely and relatively to the relevant benchmark?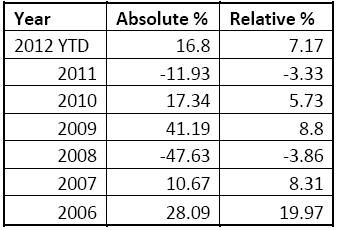 e-fundresearch.com:
How content are you with your own performance in the last years and this year?
Walewski:
We aim to outperform the benchmark by 5% per annum. Year To Date we are outperforming by over 7% so we are on target. We had a very strong Q1, whereas Q2 proved a bit more difficult with the macro uncertainty but we have started Q3 very well so we are making up the performance lost in Q2.
e-fundresearch.com:
How are you able to deliver added value for your investors with your performance?
Walewski: We believe our competitive advantages are:
A business focused on European equities: An unparalleled understanding of European industry and a unique appreciation of key economic, financial, and regulatory drivers in Europe.
A research approach focused on fundamentals: Our investment decisions are driven by tangible facts and data, not personal opinion or market momentum. Valuation is absolute, not relative; we consider company valuation as a potential owner of the business in perpetuity.
A portfolio focused on best opportunities: We generate superior returns by concentrating our portfolio on a limited number of high-conviction opportunities. We maximise returns rather than the number of good ideas.
A team focused on long-term results: It enables us to take advantage of short-term market opportunities and deliver superior returns over the long-term.
e-fundresearch.com: How long have you been a fund manager already?

Walewski: For 14 years.

e-fundresearch.com: What were your biggest successes and your biggest disappointments in your career as fund manager?

Walewski: Biggest success has been the founding of Alken Asset Management and its continued development into a solid and successful business. The track record of the Alken European Opportunities fund has been a key result of a hard working team at Alken. Biggest disappointment has been underperformaning the benchmark in 2008, when we didn't have a clear macro view, then again not many people did! We have since then adopted a complementary macro overlay to all our predominant bottom-up analysis.

e-fundresearch.com: What kind of capital market situation do we have at the moment? How do you act in this environment?

Walewski: Our macro view has not changed, we remain cautious and believe that as long as European policymakers do not find a convincing way to reflate the economy the environment will remain volatile. As such we have not made any major changes within the portfolios we manage.

e-fundresearch.com: What are the special challenges in this environment?

Walewski: Visibility in the markets – until the macro situation in Europe is fully and solidly resolved for the long-term it will remain volatile. This volatility itself presents a challenge also.

e-fundresearch.com: What objectives do you have till the end of the year and in the mid term for the upcoming 3 to 5 years?

Walewski: We aim to continue to outperform the benchmark and deliver positive returns for our investors. Looking further ahead, we aim to grow assets at Alken in a controlled and structured way and continue to outperform in our relative performance fee funds and in absolute terms for the directional long-short and hedge funds.

e-fundresearch.com: Do you model yourself on someone? Any ideals?

Walewski: No.

e-fundresearch.com: What motivates you in your job?

Walewski: A passion for investing and bottom-up research, a dedication to fundamental analysis, and delivering positive returns to investors who support us.
e-fundresearch.com: Many Thanks!

Performanceergebnisse der Vergangenheit lassen keine Rückschlüsse auf die zukünftige Entwicklung eines Investmentfonds oder Wertpapiers zu. Wert und Rendite einer Anlage in Fonds oder Wertpapieren können steigen oder fallen. Anleger können gegebenenfalls nur weniger als das investierte Kapital ausgezahlt bekommen. Auch Währungsschwankungen können das Investment beeinflussen. Beachten Sie die Vorschriften für Werbung und Angebot von Anteilen im InvFG 2011 §128 ff. Die Informationen auf www.e-fundresearch.com repräsentieren keine Empfehlungen für den Kauf, Verkauf oder das Halten von Wertpapieren, Fonds oder sonstigen Vermögensgegenständen. Die Informationen des Internetauftritts der e-fundresearch.com AG wurden sorgfältig erstellt. Dennoch kann es zu unbeabsichtigt fehlerhaften Darstellungen kommen. Eine Haftung oder Garantie für die Aktualität, Richtigkeit und Vollständigkeit der zur Verfügung gestellten Informationen kann daher nicht übernommen werden. Gleiches gilt auch für alle anderen Websites, auf die mittels Hyperlink verwiesen wird. Die e-fundresearch.com AG lehnt jegliche Haftung für unmittelbare, konkrete oder sonstige Schäden ab, die im Zusammenhang mit den angebotenen oder sonstigen verfügbaren Informationen entstehen.