e-fundresearch.com: Mr. Andrew Arbuthnott. You are the fund manager of Pioneer Funds – Top European Players (ISIN: LU0119433570). Since when are your responsible for the fund management?

Andrew Arbuthnott: I started to manage the fund in June 2001.

e-fundresearch.com: Which benchmark do you adhere to?
Andrew Arbuthnott: The funds benchmark is MSCI Europe.
e-fundresearch.com: Are you also responsible for other funds at the moment?

Andrew Arbuthnott: I manage several other mandates for institutional clients .
e-fundresearch.com: What is the total volume that you manage in all your funds?
Andrew Arbuthnott: Approximately 1 billion euro.

e-fundresearch.com: Regarding the performance: which performance did you achieve since the beginning of the year and in the years 2007-2011? Absolutely and relatively to the relevant benchmark?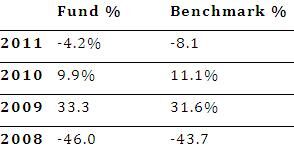 e-fundresearch.com: How content are you with your own performance in the last years and this year?

Andrew Arbuthnott: Overall in the last 11 years I have been managing it, the fund has performed well and delivered out-performance for clients relative to benchmark and peers. Volatility of returns over the same time has been quite comparable to both benchmark and peers. So, I would say the proposition that a high conviction, concentrated portfolio can be a powerful method of investment has been validated.

e-fundresearch.com: How are you able to deliver added value for your investors with your performance?

Andrew Arbuthnott: At Pioneer Investments we have an active, fundamental, research-driven investment process. We are looking to find the most attractive investment ideas in the European area on the basis of quality and valuation characteristics. This fund looks to really exploit these best ideas and to generate additional returns for clients through adopting a concentrated, high-conviction process with a medium-term time horizon and controlled level of portfolio turnover.

e-fundresearch.com: How long have you been a fund manager already?

Andrew Arbuthnott: Since 1993.

e-fundresearch.com: What were your biggest successes and your biggest disappointments in your career as fund manager?

Andrew Arbuthnott: Being a fund manager has many highs and lows dependent on the success of individual investment cases or the performance of the market in general. I think being able to adapt to different environments and conditions has been a significant achievement.

e-fundresearch.com: What kind of capital market situation do we have at the moment? How do you act in this environment?

Andrew Arbuthnott:At the moment we have a difficult economic background to operate in (especially in the European area) and uncertainty and volatility are widespread. However, at times this can also provide good opportunities. My approach is to keep operating with a high conviction investment approach and to try to use these volatile market conditions to exploit valuation opportunities in investment cases that we favour strongly.

e-fundresearch.com: What are the special challenges in this environment?

Andrew Arbuthnott:Greater than normal resilience by markets on the actions and statements of policy-makers and politicians and a phase of prolonged deleveraging in many economies make for some extra challenges just now.

e-fundresearch.com: What objectives do you have till the end of the year and in the mid term for the upcoming 3 to 5 years?

Andrew Arbuthnott: Regardless of the time period, my primary objective is always to try and maximise returns for our investors.

e-fundresearch.com: Do you model yourself on someone? Any ideals?

Andrew Arbuthnott: From a professional point of view, my favourite investment book is still The Intelligent Investor by Benjamin Graham, first published in 1949. Everytime I read it (many times already) I learn something useful.

e-fundresearch.com: What motivates you in your job?

Andrew Arbuthnott: The world of fund business and investment is dynamic and it is always possible to learn new things about companies and industries. This, and the challenge to keep delivering attractive returns for our investors, keeps me well motivated in the job.
e-fundresearch.com: What else do you want to achieve or do you have any further aims as a fund manager?

Andrew Arbuthnott:My main objective is to continue to delivering good returns for clients within the area of European Equities.

e-fundresearch.com: What other profession would you have taken interest in, apart from becoming a fund manager?

Andrew Arbuthnott: I have a primary degree in Science and found that an interesting area before moving into finance. In fact I often think that to have a scientific training and mind-set is quite useful in the world of fund management. As this point it is a bit late for a career in professional sport – although I do enjoy coaching rugby at the weekends!
e-fundresearch.com: Many Thanks!
Täglich die aktuellsten News im newsletter: hier anmelden
Performanceergebnisse der Vergangenheit lassen keine Rückschlüsse auf die zukünftige Entwicklung eines Investmentfonds oder Wertpapiers zu. Wert und Rendite einer Anlage in Fonds oder Wertpapieren können steigen oder fallen. Anleger können gegebenenfalls nur weniger als das investierte Kapital ausgezahlt bekommen. Auch Währungsschwankungen können das Investment beeinflussen. Beachten Sie die Vorschriften für Werbung und Angebot von Anteilen im InvFG 2011 §128 ff. Die Informationen auf www.e-fundresearch.com repräsentieren keine Empfehlungen für den Kauf, Verkauf oder das Halten von Wertpapieren, Fonds oder sonstigen Vermögensgegenständen. Die Informationen des Internetauftritts der e-fundresearch.com AG wurden sorgfältig erstellt. Dennoch kann es zu unbeabsichtigt fehlerhaften Darstellungen kommen. Eine Haftung oder Garantie für die Aktualität, Richtigkeit und Vollständigkeit der zur Verfügung gestellten Informationen kann daher nicht übernommen werden. Gleiches gilt auch für alle anderen Websites, auf die mittels Hyperlink verwiesen wird. Die e-fundresearch.com AG lehnt jegliche Haftung für unmittelbare, konkrete oder sonstige Schäden ab, die im Zusammenhang mit den angebotenen oder sonstigen verfügbaren Informationen entstehen.