e-fundresearch.com: Mr Tadao Minaguchi, you are the fund manager of the Invesco Japanese Equity Advantage Fund (ISIN: LU067514808). When did you take over the responsibility of managing this fund?
Tadao Minaguchi: May 2006. Since inception of this fund.

e-fundresearch.com: What is the current size of the fund?
Tadao Minaguchi: JPY 39,625mn (EUR 348mn, EUR 1.0 = JPY 114.00) as of 2012/12/31
e-fundresearch.com: Do you also manage other funds or mandates?
Tadao Minaguchi: We manage other mandates such as offshore/domestic separately managed accounts. We pursue the same investment philosophy and process since inception of the strategy, so, unless there is specific guideline constraints, all of the funds/ mandates are managed identically.
For your reference, we set out below the list of full mandates of Japanese Equity Advantage strategy, all of which is managed by us.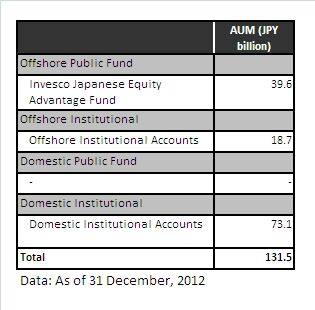 e-fundresearch.com: What is the total amount of assets you manage currently?
Tadao Minaguchi: For 8 years as a fund manager (Total industry experience including experience as a research analyst is 18 years.).
e-fundresearch.com: What are the main steps in your investment process and in which area is your competitive edge to add value to investors?
Tadao Minaguchi: The chart below provides a summary of the stock selection process:
Step 1: Screening - Stage 1
At the first step, we quantitatively screen the entire universe of approximately 3,800 Japanese equity listed stocks by eliminating stocks with a market capitalisation of less than JPY25bn.
Step 2: Screening - Stage 2
Stocks filtered out by the first screening process are further screened quarterly to identify companies that exhibit low capex-to-sales ratios, high operating margin improvement or high operating profit growth.
Step 3: Fundamental Research/Valuation Assessment
We undertake bottom-up, proprietary fundamental research; which plays the key role in identifying the opportunities with particular attention to business franchise. We conduct company visits to gain better first-hand knowledge, as well as engage specific research based on various types of intangible values, such as brand, technology and customer loyalty, for the companies which generate high degrees of free cash flow. Based on the research, we produce free cash flow projections and then evaluate stock prices based on free cash flow yield.
Step 4: Portfolio Construction
After thorough analysis and discussions at the team's regular meetings, I construct a portfolio with 40-60* stocks.

*Number of stocks may vary depending on market conditions.
Competitive Edge
Our bottom-up, proprietary fundamental research is competitive edge to add value to investors. In a market dominated by more traditional style-biased approaches to investing (i.e. value/growth, large/small cap), we believe that our proprietary research process, which is not style-biased and rather focuses to find stocks that generate substantial free cash flow and thus more shareholder value supported by strong business franchise including brand, technology and customer loyalty, offers investors a unique perspective.
e-fundresearch.com: Which benchmark is most relevant and how should investors compare the fund vs. benchmarks or peer groups?
Tadao Minaguchi: The Fund seeks to outperform the TOPIX benchmark. The TOPIX Index is considered to be the most appropriate benchmark for performance comparison purposes as it most closely represents the strategy's investment universe which consists of Japanese equities listed on all Japanese stock exchanges, including IPOs (approximately 3,800 companies). However, as pure bottom-up investors, we use the benchmark for performance comparative purposes only, and do not make portfolio decisions relative to the benchmark.
We do not consider specific peer group, as our unique approach to identifying value generating companies has no bias towards style (value/growth) or market capitalisation (large/mid/small cap) and very few competitor employ a similar investment approach. Our strategy is generally compared to constitute in category "Japanese Equity" within which we are normally included by third party databases.
e-fundresearch.com: Which performance did you achieve for the fund YTD and over the past five calendar years in absolute terms and relative to relevant benchmark or other reference indices?
Tadao Minaguchi: Invesco Japanese Equity Advantage Fund – class C share (JPY): Data as of 31 January 2013


e-fundresearch.com: What motivates you in your job?

Tadao Minaguchi: Essentially I like what I do: meeting management, talking with the team, and analysing data, etc. Moreover, I am quite motivated because I can feel that I am contributing to society as one of investment professionals in the industry to some extent by not only delivering long-term stable outperformance against the respective benchmark, but also investing high quality companies. Financial industry helps people or society to produce greater services/goods by facilitating money circulation. What I do right now is to finance those companies which have the strong potential to produce greater services/goods. From the moment I started to work as an analyst at Investment banking Division of JP Morgan more than 18 years ago, this has been a central part of my passion as well as "raison d'etre" (French), a reason for something being so.
e-fundresearch.com: Which other profession would you have considered apart from becoming a fund manager?
Tadao Minaguchi: My enthusiasm to contribute to society as one of professionals working in financial industry has not changed at all. As stated above, since I started my career as an analyst at investment banking department of JP Morgan with the same passion, I could say that an investment banker could have been a reasonable second alternative profession.
e-fundresearch.com: Many Thanks!
Performanceergebnisse der Vergangenheit lassen keine Rückschlüsse auf die zukünftige Entwicklung eines Investmentfonds oder Wertpapiers zu. Wert und Rendite einer Anlage in Fonds oder Wertpapieren können steigen oder fallen. Anleger können gegebenenfalls nur weniger als das investierte Kapital ausgezahlt bekommen. Auch Währungsschwankungen können das Investment beeinflussen. Beachten Sie die Vorschriften für Werbung und Angebot von Anteilen im InvFG 2011 §128 ff. Die Informationen auf www.e-fundresearch.com repräsentieren keine Empfehlungen für den Kauf, Verkauf oder das Halten von Wertpapieren, Fonds oder sonstigen Vermögensgegenständen. Die Informationen des Internetauftritts der e-fundresearch.com AG wurden sorgfältig erstellt. Dennoch kann es zu unbeabsichtigt fehlerhaften Darstellungen kommen. Eine Haftung oder Garantie für die Aktualität, Richtigkeit und Vollständigkeit der zur Verfügung gestellten Informationen kann daher nicht übernommen werden. Gleiches gilt auch für alle anderen Websites, auf die mittels Hyperlink verwiesen wird. Die e-fundresearch.com AG lehnt jegliche Haftung für unmittelbare, konkrete oder sonstige Schäden ab, die im Zusammenhang mit den angebotenen oder sonstigen verfügbaren Informationen entstehen.