Nachfolgend der Kommentar in englischer Sprache:
---
"Over the course of the year we made many correct decisions in the Horizon Pan European Equity Fund, for example we navigated through the financials morass quite well, but we also missed some opportunities - notably in oil services and mining stocks. Hindsight tells us what we should have done, but not necessarily what we can expect from here."
Der Artikel wird nach der Anzeige fortgesetzt.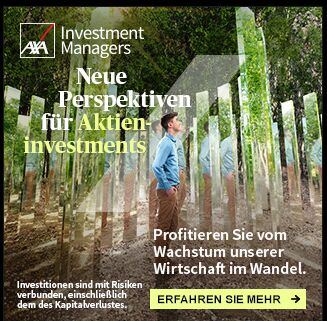 Die Evolving Economy ist die Wirtschaft der Zukunft. AXA Investment Managers will in allen Regionen und Sektoren Unternehmen identifizieren, die vom langfristigen demografischen und technologischen Wandel profitieren. Willkommen in der neuen Welt der Aktienanlagen. » Erfahren Sie mehr
Rezession und US-Wirtschaft als geläufige Wörter im Jahr 2008
"I suspect that 2008 will see the word ´recession´ linked to the US economy many times - especially in the first half of the year. Whether the US actually falls into recession or not is perhaps less important than the fact that the market will fear that it will. Even if it does, the market may choose to look beyond it and focus on lower interest rates leading to a revival of the economy later in 2008 or in 2009, as the Fed rides to the rescue once again. European economies will continue the low growth path to which we have become accustomed. All in all, I suspect that 2008 will have a less favourable economic backdrop than has been the case in recent years. The important point is that earnings growth will be harder to find, and that should make our consistent emphasis on higher earnings growth more valuable."
"At present all companies are seeing higher costs (energy, raw materials and food), and not all are able to absorb these or to pass them on to their end consumers. It is inevitable, therefore, that the market will be nervous, but generally companies are both well aware of these issues, and more importantly, have been looking at ways to work through them. As a result, there are some anomalies beginning to appear, where the market has overreacted to obvious issues, giving us an opportunity to add to positions. We came into the latest bout of market turmoil well positioned, and have been adding to those holdings which have not performed recently, which have reasonably good earnings visibility and predictability. Additions have been made to Inditex, Sodexho, Merck, SAP and Autonomy. We have also been selling out of areas where earnings growth is forecast to be less than 10%. Recent sales have included ING, Roche and BSkyB, all due to fears that either their growth is slowing, or shows no signs of getting ahead of the 10% level which we are striving to achieve across the whole portfolio."
"Holdings in manch guten Unternehmen"
"As the fund passes its sixth anniversary, I would like to reiterate the point about patience. All too often the market tries to judge an event or result on an increasingly short term basis. This has to be one of the greatest ills of the equity market currently, and can provide a great opportunity to increase holdings. It is ridiculous for companies to try to run their business on a three monthly basis - and equally ridiculous for us to claim to be ´investors´ if our time horizon is so short. That does not mean that we are complacent passive shareholders standing idly by while a company drifts in the wrong direction (as demonstrated by some of our sales)."
"We have holdings in some great companies, and have increased the size of holdings over the last few months. Just under 35% of the fund is now in holdings greater than 2.5% (this number was 25% last March). The total number of equity positions in the fund is 49, the lowest we have ever had. Both these numbers show how the fund has become more concentrated on sound names such as SGS, Inditex, Capita, Fresenius and Sodexho, to name just a few. In each case where we have been adding, it is because the market has been taking a short term negative view of news that we think bodes very well for future developments. The next vital ingredient for investors is, as ever, patience."