e-fundresearch: What is your general market outlook for Asia ex Japan equities in the next 12 months? Where do you see opportunities and where do you see risks?
Angus Tulloch
: We maintain a very conservative stance, believing there is little upside at current valuations. Markets are discounting a rapid return to the favourable conditions of strong global economic growth prevailing before the recent financial crisis. However, they are not anticipating the possibility of a substantial pick up in inflation as a result of 'quantitative easing'. The extent and pace of the market rebound since March has been astonishing and a further correction over the summer seems likely.
e-fundresearch: Which regions and/or sectors are currently overweight or underweight in Asia ex Japan equity funds? What are the reasons for it?
Angus Tulloch: We are fundamental stock-pickers focused on investing in quality companies in terms of management, business franchise and financial structure. As a result our country and sector weightings are driven by our stock selection.
As a result of our stock selection we are overweight in the Consumer Staples sector which offers companies that can grow earnings without relying on the global growth environment. We are also overweight in the Utilities and Telecom Services sectors where companies have relatively predictable earnings.
We maintain a substantial position in gold on concerns about the inflationary consequences of recent 'quantitative easing.'
Der Artikel wird nach der Anzeige fortgesetzt.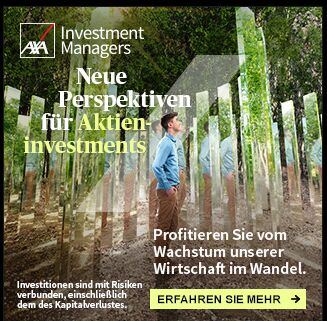 Die Evolving Economy ist die Wirtschaft der Zukunft. AXA Investment Managers will in allen Regionen und Sektoren Unternehmen identifizieren, die vom langfristigen demografischen und technologischen Wandel profitieren. Willkommen in der neuen Welt der Aktienanlagen. » Erfahren Sie mehr
We remain underweight in the more cyclical Energy sector as companies are exposed to the fluctuations of oil prices.
We are also underweight in the Financials sector as we believe that stocks will continue to be impacted by asset quality issues and dilutive capital raisings.
e-fundresearch: Which are the most important factors currently when you assess Asia ex Japan equities?
Angus Tulloch: Although the short-term outlook is uncertain, we continue to believe that Asia Pacific markets will provide very positive returns over the long-term as there are a number of factors favouring the asset class.
Long-term positives include demographics and high savings ratios. Positive demographic trends in countries such as India should contribute to a major expansion of consumer markets. Large amounts of savings, such as the huge pool of deposits in the Chinese banking system, should be supportive of equity valuations as funds move into regional stock markets over the long-term.
The Asian crisis of 1997/8 left a legacy of caution. As a result, companies and governments in the region have not participated in the recent debt binge. Government finances and company balance sheets are therefore in good shape at a time when Western consumers and governments have built up vast amounts of debt. This has given governments in Asia more scope to provide stimulus packages to fight deflation.
Another positive is the entrepreneurial culture which is firmly entrenched across the region. There are many high quality companies with excellent management and strong business franchises focused on shareholder value.
e-fundresearch: What will be the impact of a growing Chinese domestic economy for the whole region?
Angus Tulloch: The Chinese economy is likely to remain a dynamo for the region, growing at rates well above Western economies for a number of years. High levels of economic growth offer companies in China the opportunity to boost sales and profits considerably. Companies throughout the region will also benefit from the growth of China as a market to sell into. China has a vast amount of domestic savings earning low rates of interest. Some of this should be invested into domestic and regional stock markets, underpinning equity valuations in the region over the long-term.
e-fundresearch: Thank you for the interview!
---
Mehr Informationen, Analysen, Tabellen und Charts zu Equity Asien ex Japan finden Sie hier!